Ox Street is the brand-spanking new sneaker and streetwear buying and selling platform based in Singapore. It has just recently expanded and offered it's services to Australia.
We took this (ahem!) 'research' as the perfect excuse to cop new kicks and break down to you guys how our buying experience went.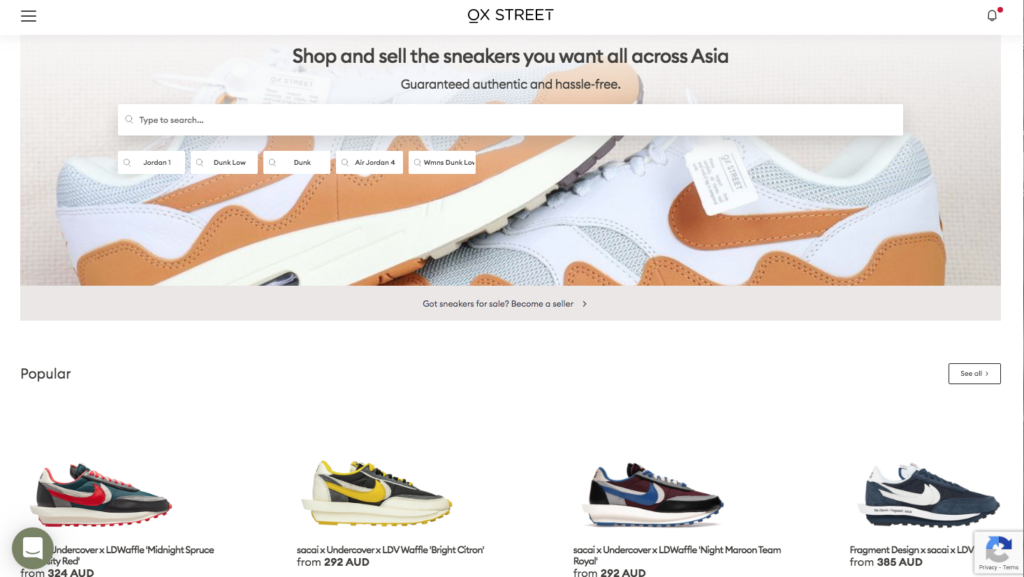 The Ox Street platform can be easily accessed via the Apple App Store and Google Play. Alternatively, it also can be viewed and safely accessed through your favourite browser.

Availability: 10/10
Sign-up is straightforward and secure. The site offers a 2-factor authentication for your new account. Navigating and searching for the streetwear you're after is a breeze using the search bar. Even though, there are promotions, they do not detract from the clean interface of the pages.
Navigation: 9/10
Before we hit the 'pay it now' button, we were presented a final check-out list for the price of kicks and shipping. We were charged $37 AUD. In our experience with other buying and selling platform services, the 'hidden fees' would only appear once our card has been debited. We were actually prepared ourselves for this. We were pleasantly surprised that the total amount presented to us during checkout was the exact same when our card was debited.
Shipping/Fees: 10/10
If we were to nitpick about the whole online experience with Ox Street this would be it. You would be hard-pressed to find kicks and streetwear that were previously released 5 years or more ago. However, their sneakers and streetwear catalogue from 2-3 years ago and onwards is quite impressive and updated. From toddler sizes, bae sizes and sz 17 big-footer they have us covered.
Variety of Collection: 7/10
Perhaps one of our most important concerns as a sneaker enthusiast. The prices of the merchs here are either cheaper or comparable to other sneaker selling platforms based in North America. Price of the kicks you want is too high?!? Ox Street also gives us the option to make offers to sellers. We also have the option to open a selling account.
PRICE: 9/10
They have a support chat box on the bottom right of the app and web page where we can direct our questions. When we first used the app downloaded via google we experienced some lagginess. At first we thought these were just normal baby-step glitches but we kinda felt this would be a good time to see if anyone would actually respond to our queries via the support chatbox. To our surprise, someone did respond within minutes via email. We were told they were doing a routine check-up on their servers and everything would be running smoothly in a couple of minutes. Which it actually did!
They will also provide us updates via app and emails regarding the status of our orders with every step that happens, down to the day when your order actually gets delivered to your place.
Speaking of status, our updates indicated our package got held-up for a couple of days at the Singapore Airport. And just like any other sneakerhead fiend, our hearts went racing and we were already thinking of the worse case scenario.
"Our kicks have been tampered with or were deemed suspicious!"
"We're never gonna get em now!"
Again, we had another perfect excuse to hit up the chat support box and once again we were responded to within minutes. We were rest-assured it was a form of covid SOP and true enough after 2 days our package was off to Melbourne.
Customer Service: 10/10
Once the seller ships to their main office. Our sneaker underwent a rigorous and meticulous verification process by one of their certified agents. We received a signed verification checklist card inside the sneaker box. Both kicks were tagged with Ox Street's seal of Authenticity.
Obviously, this isn't our first rodeo ordering sneakers online. Not that we doubted Ox Street's verification process, but at this day and age where fakes are getting better and better, well we had to do our own homework.
Once we got our kicks, we immediately compared it to the same kicks that were purchased locally. The we compared them to fake vs legit online videos and finally ran it through a couple of legit check apps.
Our kicks obviously passed with flying colors!
By the way, cutting the the seal of authenticity cord means you are happy with your purchase. It also means you have voided any claims you wish to make if you are dissatisfied with your order.
I cannot stress this enough. Do your homework and thoroughly inspect your kicks before you cut that cord!!!
Authenticity: 10/10
As with most overseas purchase and the global covid situation, we were prepared to receive our order in a month's time. But to our surprise, we got our package in 9 DAYS!!! We were thoroughly IMPRESSED!!! That was significantly faster than some of our local online orders these days! DHL is the courier they used.
Turnaround: 10/10
As of this writing, they have $20 SGD/$20 AUD OFF your first purchase. Which of course we happily took advantage of to offset the total cost of our ordered kicks. They'll also provide 20 OX CREDITS ($20AUD) for every successful referral you make. You can save up these OX CREDITS to purchase any item in their platform.
Throughout the year they have launched some amazing raffles and giveaways.
Make sure you stay updated by following their IG account here.
They also have some very up to date articles about upcoming releases and the latest news on street culture trends.

Use this link for your first order! Wink! Wink!
Promotions: 10/10
As a long time sneaker enthusiast, I am beyond ecstatic that another reputable online sneaker based selling platform has opened its services to us here DOWN UNDER. More options means more choices for us. We don't have to rely anymore on just one source for our coveted merchs.
Although in most occasions we'll be paying a premium above retail, I am more than happy to pay for those "fees" if it means:
I don't have to do dodgy meetups.
I'll have peace of mind because my kicks are legit.
I can order from the safety and convenience of my home (or from anywhere for that matter).
I don't have to camp-out or line-up for kicks.
But most importantly, I'll have more time to spend with my family and do the things I like (this article for example! LOL).

We highly recommend you guys check-out and consider OX STREET for your next cop!
Overall: 9.4/10
Make sure you subscribe to our newsletter to keep up to date! For previous sneaker features, please click here.