Overnight, Apple has announced 5 new services to hit the market this year. While we didn't see any hardware announcements included in this event, we are still excited to see what they brought to the table.
Apple News Plus was first off the rank. Apple News Plus displays magazines with a new "Live Cover" presentation, lightly animating the covers for an interactive look and feel. Underneath the cover, highlighted stories are listed with blurbs, and the service recommends stories you might like even if they're from magazines that you don't typically read. You can also browse through magazines you subscribe to, and new issues are automatically downloaded for offline reading when they are released.
At launch, subscribers can access up to 300 magazines. Other digital and traditional news partners are part of the service as well, including The Wall Street Journal and Los Angeles Times. Apple touts privacy in its app, noting that advertisers can't track what you're reading so you won't receive targeted ads based on stories you click on.
Next up was the Apple Card. Now, unfortunately at this stage we will not see this launching in Australia. However, Australia did get an honourable mentioned through the keynote address as one of the leading countries to being using the Apple Pay system. Unlike traditional applications, you can apply directly on the iPhone and, once approved, the card is stored digitally on the Wallet app where you can view your statements, balance, and payment due dates. The app also tags locations and retailers to help you browse through transactions and remember where you may have made that purchase.
Apple Arcade was next up. Unlike cloud gaming services announced by Google last week at GDC, Apple's version is more like a subscription to games that are available through the App Store instead of traditional titles that you can play on sets like the PlayStation, Xbox, or Nintendo Switch (unless, of course, the game is also offered on iOS).
The company did not disclose the subscription fee, but it says that it will include access to more than 100 games that are exclusive to iOS. You can also play games across Apple devices, including the iPhone, iPad, Apple TV, and a Mac computer, and games will be available for offline play.
Apple TV Channels was next which is around the new Apple TV update. The new Apple TV update will now include a focus on channels like HBO, PBS, CBS, Acorn TV, and Tastemade without punting users to a third-party app. Subscribers can choose which channels they'd like to subscribe to and pay per channel instead of a traditional, large package from cable companies. However, pricing was not shared during the keynote.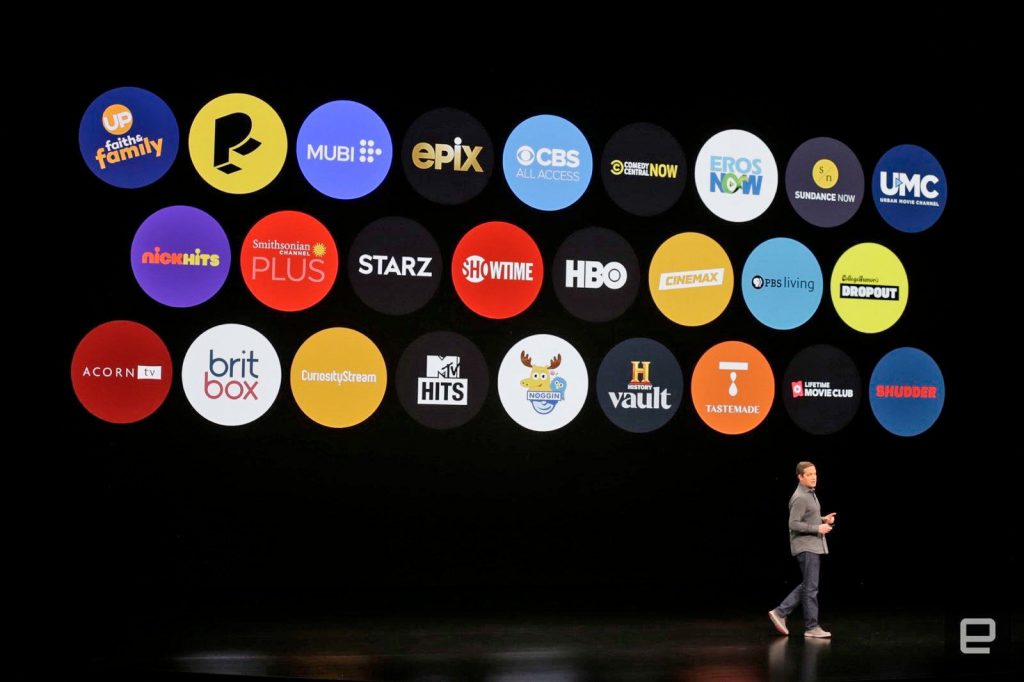 And last but not least and probably the biggest thing to come out of the announcement this morning was Apple's new streaming service called Apple TV Plus. Unfortunately, Apple didn't announce a lot of details other than the name and that it will be available in the September 2019 with online and offline viewing. It spent the rest of the time introducing a gaggle of directors, actors, and actresses to help unveil Apple TV Plus, including Oprah Winfrey, Reese Witherspoon, Steven Spielberg, Jason Momoa, Steve Carell, Alfre Woodard, Sesame Street's Big Bird, and Kumail Nanjiani.