Cult Melbourne fashion boutique UP THERE is expanding its footprint with a 345 sqm flagship store at 69 Flinders Lane Melbourne, now officially open.
Born in 2010 by James Barrett, Brendan Mitchell and Jason Paparoulas, the store marks an important milestone and growth for the quiet achievers who are carving their names in Melbourne's fashion retail scene.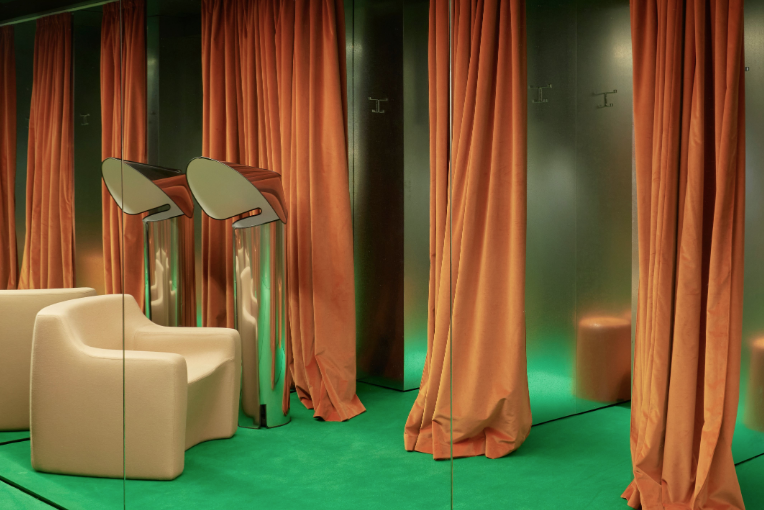 The current McKillop Street boutique will close on June 4, diverting customers to the new flagship which will accompany its sister brand Up There Athletics at 179 Flinders Lane.
"The new store was born out of numerous factors but simply put, we've outgrown our original home. We needed something bigger and more functional, but it also fulfils our burning desire to create a new retail environment that's a truly unique experience not only in Melbourne, but on a global level," says Barrett.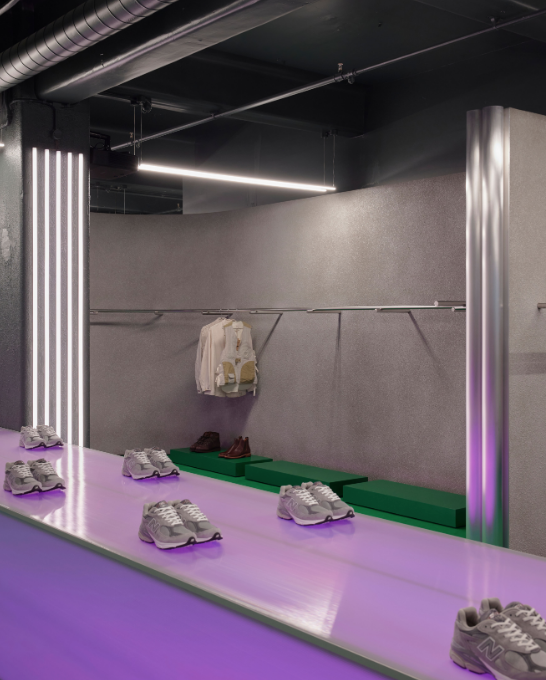 "The space has product at the forefront, it is all about providing an environment that matches the quality and design of the products we sell. Providing them a home that can elevate and tell the story of each piece," adds Mitchell.
Designed in partnership with acclaimed Melbourne architects, Kennedy Nolan, the space was created with a desire to push the boundaries in materiality and colour that is traditionally used in a retail store. It is inspired by the distinctive space: partially subterranean, situated at the base of the iconic Herald and Weekly Times building and is
characterised by a deep plan opening at its farthest point to the atmospheric urban shadows of Sargood Lane.

Together, Kennedy Nolan and UP THERE created a brief for a store interior which was to be theatrical, cinematic and abstract.

"Each element of the store has been considered, from the shimmering surfaces of flat and perforated galvanised steel, to the elevated experience of fitting rooms with their secret salon, complemented with the roughcast texture of the 'concession' shells right through to the overall colour palette of unexpected, saturated colour.
Guarding the entry and perhaps marking the strongest visual imprint are the two temple dogs at the front of the store – they are vitrines for merchandise, but more importantly they are mascots for the store. They define the space as a place where something special happens and are there to welcome you back on every visit," says Adriana Hanna of Kennedy Nolan.

Another focal point is intense green flooring that spans the entire ground level, resonant of a grassy field. Green is a key colour for the brand and can also be found on the ceilings which are blanketed in an inky dark green.

Merchandise is organised into discrete zones, a concession approach which reflects some key characteristics of the brand – curating and displaying stock in themes, providing scope for collaborations, events and exclusive releases.

"Essentially, we just want to be good hosts to our customers, so there is a real emphasis on places to hang out in the store. All the spaces are social, but at the very end of the store is a large table and generous banquettes creating a spot to try on some sneakers and have a coffee from the in-house café," says Paparoulas.
Committed Melbournians with a global outlook, Barrett and Mitchell travel twice a year to Tokyo, Paris and New York to source their masterfully curated unisex collection that is home to the most exclusive sneaker releases from Nike, Jordans, Adidas, New Balance, Asics and Salamon.

Since its inception, UP THERE have introduced 27 new brands to the Australian market. It currently has the largest selection of Kapital in the country as well as stocking Bleue Burnham, Margaret Howell, Nicholas Daley, Engineered Garments, Norse Projects, Junya Wantanabe, 4SDesigns and Beams Plus. It is the only store in Australia to be currently collaborating with New Balance, and also one of the few working with Asics.

"The way we have gone about things so far has meant that we are one of the more genuine retail stores around. This is a result of how we interact with our community, how we do our buying, how we present ourselves in store. We definitely have an 'UP THERE' way of doing things which people appreciate," adds Barrett.
While the new flagship is bigger, brighter and bolder than its previous iteration, the sense of community remains strong and at the forefront of the entire experience that now plays on a global scale. So, whether you're a tourist visiting for the first time or a committed customer, there's space for you at UP THERE.
Photography by: Sean Fennessy