Set your eyes on this, another commissioned BespokeIND (Damian Sim) creative work of art full of intricate details that you can feast your eyes on. This exquisite piece is perhaps one of BespokeIND's most unique and complex designs featuring an array of premium materials from the overlays to the toe box.
Each and every detail that makes up this distinct piece doesn't disappoint! Teasing your senses with the materials ranging from tumbled, smooth, kangaroo, pig and deer to name a few. The ultraviolet light reacting vinyl overlays on each panel of the sneaker glows during the day time and further entices the senses. Being that it's such a intricate design BespokeIND's (Damian Sim) had fun creating this masterpiece and is happy to able share it with the world.
This all came about when Funlab commissioned BespokeIND to handmake a pair of Nike Air Max One's that would re-create the electronic fun fair that is the latest Melbourne cocktail arcade bar, B. Lucky & Sons. Bringing the craziness with a robust neon colouring and feelings of instant nostalgia with its PAC-MAN visuals. This shoe instantly creates a connection with your inner child and voids all self control as you want to claim this exclusive once in a lifetime prize!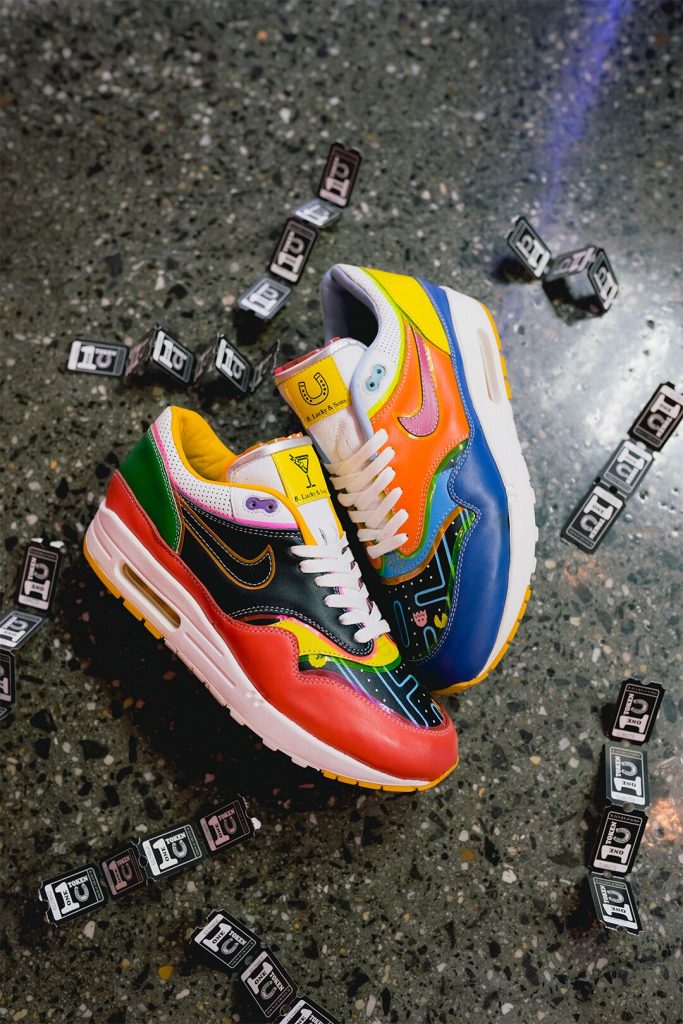 So why not head in and try and win them (or just gaze at their beauty) at B. Lucky & Sons, Melbourne Central from 4pm on July 5th. Ticket Price 450,000.
DESIGN + MAKER : @damoonz @bespoke_ind
Photography : @lucasblackman