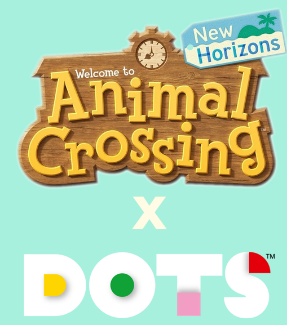 For the fans of Animal Crossing: New Horizons boasts new patterns and are now available for you to construct and create your own flavour from LEGO DOTS designs.From today, you can add a range of colourful and exciting DOTS patterns to your own personal Animal Crossing: New Horizons island.
Fans interested in new dazzling designs for their Animal Crossing: New Horizons island can now download a total of 17 generic DOTS patterns and five Halloween DOTS patterns across wallpapers, flooring, canvases, rugs and avatars via QR codes here: www.LEGO.com/dots-animalcrossing
All digital DOTS patterns offered for Animal Crossing: New Horizons reflect the physical tiles and patterns of LEGO DOTS, and much like in real life, people can unlock their creativity and express themselves through a variety of colourful patterns.
When the real world became reduced due to COVID-19 limitations, Animal Crossing: New Horizons allowed millions of fans to spend time in a new, fruitful digital world on their very own island.
Personalising and building a dream island for creative expression and fun. Through these new DOTS patterns, which create cool options for personalisation, the LEGO Group hopes to add creative possibilities to this immersive experience that celebrates play and self-expression.
#DOTYourWorld #ACNH #Halloween