In a three-way collaboration, KangaROOS, Ageless Galaxy (AGLXY), and BMW Indonesia release "The Mentality": a limited-edition pair of sneakers based on the KangaROOS Coil R1 silhouette. Only 250 numbered pairs have been produced to release alongside BMW and AGLXY's collaboration collection on the 11th of August.
The Coil R1 is one of KangaROOS' most iconic running silhouettes and comes handcrafted from the Hummel and Hummel factory in Germany. The Coil R1 "Mentality" is equipped with the NASA-developed Dynacoil cushion, and like every KangaROOS shoe, has a small pocket on the tongue.
The shoes are made of a black nubuck and mesh mix, accented with neon green leather along the collar and the top of the tongue. The look is completed with strips of BMW's signature blue along the midsole and AGLXY & BMW's graphics on the mudguard. Each pair of shoes come with two extra pairs of laces and a special card detailing the collaboration.
The pinnacle of the collection comes in the form of the BMW 2 Series Gran Coupé, affectionately dubbed "The 2." The 218i model coupé, recently released in Indonesia in February 2022, will premiere at the Gaikindo Indonesia International Auto Show (GIIAS) in a special AGLXY x BMW edition. These limited edition cars will be available to order by request exclusively at GIIAS starting from August 11, 2022.With the release of the BMW 2 Series Gran Coupé, BMW and AGLXY come together to show the world that they are not afraid to strive for greatness on their terms and that when you want to create a legacy that is both powerful and unique, you have to step out, stand out, and do things your way.
The notion of doing things your way might seem simple, but when the odds are against you and every challenge imaginable is thrown your way, it takes a good dose of mental fortitude and gritty determination to make sure your vision comes to life.
Stepping out of your comfort zone and exploring uncharted territories is exactly what AGLXY and BMW had to do to bring forth this unprecedented collaboration. The two brands found a way to bridge the gap between two completely different industries while simultaneously inspiring others of like-minded mentality.
AGLXY and BMW have created a comprehensive collection comprising a variety of apparel and and accessories, including five shirts, a bomber jacket, cardigan, sweat pants, and a running hat. Accessories include a notebook, water bottle, air freshener tag, pins, keychains, and of course, stickers.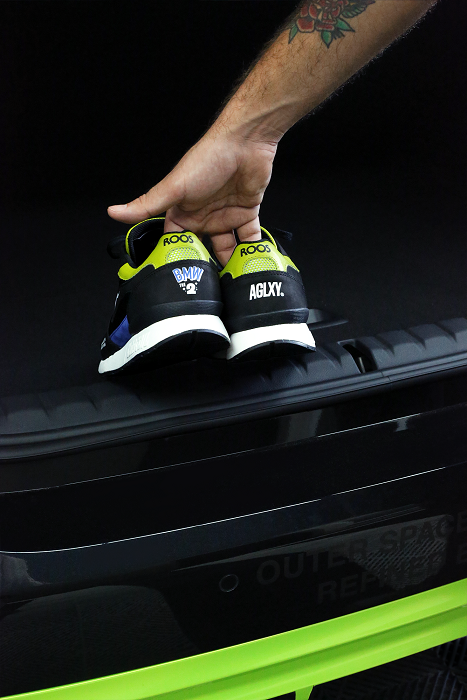 All items from the AGLXY x BMW Collaboration Collection will be available for purchase exclusively at the Gaikindo Indonesia International Auto Show (GIIAS) starting on Wednesday, August 11, 2022. Afterwards, the collection will be available on www.aglxy.com and in-store starting on August 22, 2022.
Make sure you sign up to our newsletter, so you can stay up to date! For other KangaROOS features, click HERE.