DC Shoes and Lucasfilm are collaborating for a of Star Wars™ collection themed sneakers and apparel that takes inspiration from the hit original series The Mandalorian™, which streams only on Disney+.
Based on the Mandalorian's travels, the collection features six character-driven capsules paying tribute to the Mandalorian™, Grogu™, Ahsoka Tano™, Dark Troopers™, Luke Skywalker™, and the notorious bounty hunter assault ship the Razor Crest™. The collection also includes an extensive Essentials capsule that features various Mandalorian-inspired designs and comic book style art on some of DC Shoes best-selling Essential styles.
What sets this collaboration apart is the elevated materials like textured canvas and leather and intricate attention to detail. The collection is rich with discoverable nods to the series and features Aurebesh and Mando'an text, worthy of the most discerning fans.
Highlighting the collection is a trio of premium construction Manteca colourways, DC's best-selling style for both men and women. With interchangeable patches included with the shoes, retro aesthetic Star Wars artwork on the tees, snapbacks that will help any fan accessorize in honour of their favourite Jedi Knight, and Grogu™ inspired tote bags, this collection has it all for fans of all ages.
DC Shoes clearly had a blast putting this collection together, as evidenced by the intricate details and unique elements woven into every item. Good examples of this would be how they have smartly added special reflective material to replicate Mando's coveted Beskar armour in the Mandalorian-inspired BOUNTY HUNTER MANTECA 4.
The attention to detail in AHSOKA TANO MANTECA 4 HI inspired by the heroic Ahsoka Tano, the embroidered canvas inspired by her rebel cloak, a marbled outsole to resemble her head-tails, and a custom tongue designed after her jewelled headdress.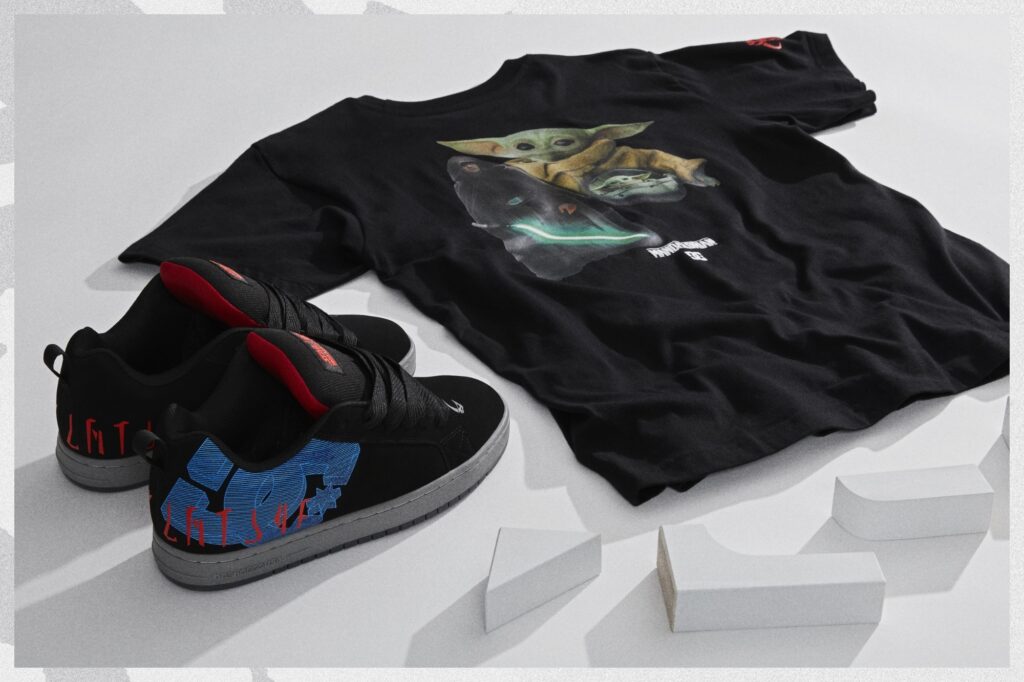 Star Wars™ x DC Shoes The Mandalorian™ collection is now available at selected retailers and dcshoes.com.au. For more information about the DC Shoes brand, visit dcshoes.com @dcshoes @dc_womens. To stay up to date, make sure you sign up to our newsletter. For more DC Shoes or Star Wars features, click HERE.