ASICS has teamed up with Japanese video game company, CAPCOM, to create products featuring their popular action game series "Mega Man". The collection consists of a sneaker, apparel (3 x T-shirts and 1 Sweatshirt), and a bag.
The collaboration sneaker was designed based on the GEL-BND sneaker, a model that has evolved from a triathlon shoe. The GEL-BND sneaker was chosen for this collaboration because of its visual similarity to Mega Man's feet in the game. The upper material was selected to reproduce the textures of 8- bit graphics from classic video games, while the detail of the shoelace holder was taken from Mega Man's buster. The sneaker is packaged in a special shoebox inspired by the original art from the game cartridge.
Designs for the collection were created by using 8-bit pixel art taken from the original "Mega Man" game.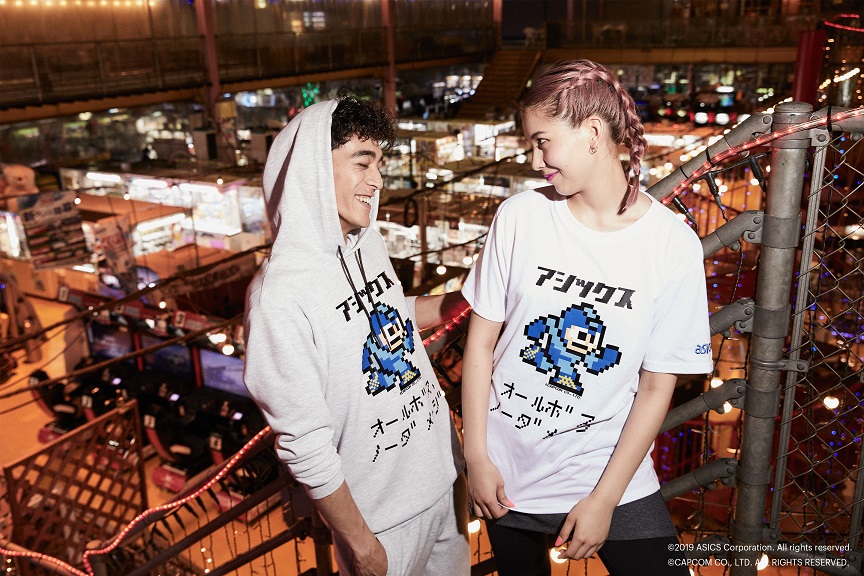 The apparel collection, was designed with the aim to express the fusion of sports and gaming. On one of the T-shirts, Mega Man is shown accelerating after getting ASICS shoes as a fictitious game item. The message "All bosses, no damage" (which means completing the game without any mistake) appears in another T-shirt in Japanese letter Katakana to put emphasis on the Japanese element of the collaboration, since both ASICS and Mega Man were born in Japan.

Collection will be released on the 1st of November at ASICS stores, ASICS Online Store, and selected retailers.