SNKRDUNK is Japan's leading sneaker and streetwear marketplace. In 2021, the platform's parent company, SODA Inc, acquired Monokabu, Japan's second largest operator in the sneaker market, allowing SNKRDUNK to have a significant presence in Japan's sneaker resale industry. In early 2022, SNKRDUNK expanded its services to global users, accumulating 4.5 million users across the globe.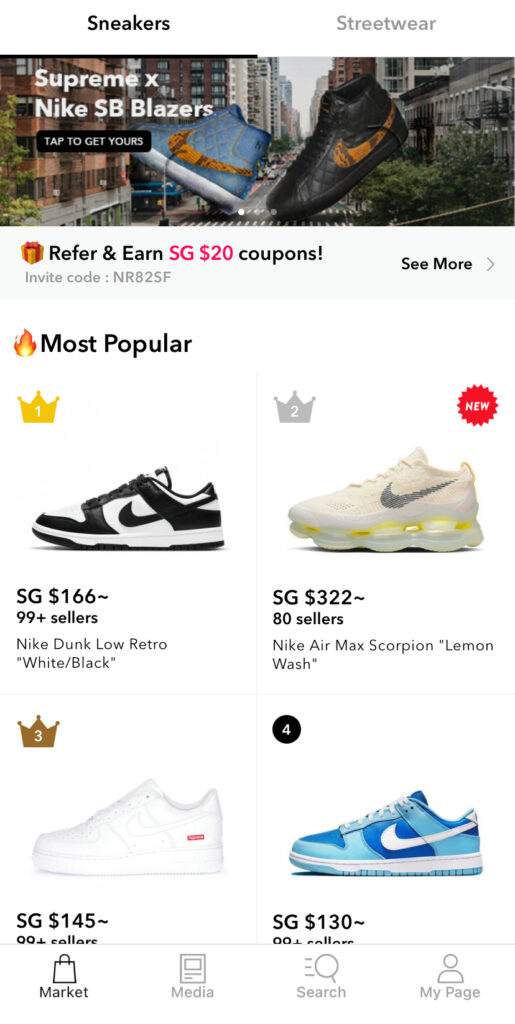 Its growing user base is a testament to SNKRDUNK's strict authentication behind every transaction. As SNKRDUNK continues to grow its digital presence, it is also carving a physical portfolio in the form of retail stores. Succeeding two high-traffic locations at Harajuku and Osaka, a Singapore flagship also opened recently on the 15th October 2022 at the premium Mandarin Gallery in Orchard Road.
Expert Authentication: Buy the Real Deal
SNKRDUNK has been revered for its stringent authentication system which ensures its leading reputation in the highly lucrative sneaker and streetwear marketplace. The company's team of expert sneaker authenticators verify the products against a refined database that houses thousands of authentication records, leading to a 99.96% authentication accuracy rate*. (*Calculated from the number of transactions from 1 March 2021 to 31 March 2022.)
The comprehensive SNKRDUNK authentication process ensures that all of its sneakers are 100% authentic. This is crucial in the resale sneaker market due to the issue of replicas and fakes. Buying from SNKRDUNK ensures that customers are not only able to access the rarest of rare sneakers, but also be reassured that they are buying the real deal.
The Global App: Sneakers for Everyone
Separate from its native Japanese version, the Global App has a rapidly-growing user base
in the Asia Pacific region, including Singapore, Australia and New Zealand. The development of the Global App represents the company's commitment and ambition to
extend its honed authentication services to the international sneaker community.
Backed by Softbank Ventures Asia and Vision Fund with a valuation of US$340 million,
SNKRDUNK's C2C marketplace plans to channel its investor funds into improving the
experience of its 4.5 million users across the globe. This includes global and category
expansion, as well as the development of a selling function for global users to conduct their own sales.
The SNKRDUNK Family: Be the First to Know
Alongside its seamless and fuss-free transactions, SNKRDUNK also delivers a vibrant media space where users can receive the latest street culture news and updates, along with in-depth profile features and the spotlighting of diverse personalities and brands. The readers of the SNKRDUNK Magazine get first dibs on everything sneakers and streetwear. All the release details on the hottest sneaker collabs and raffles are condensed into a single application, allowing sneaker lovers to fluidly move from content to commerce in just a few digital taps.
Make sure you subscribe to our newsletter to keep up to date! Stay tuned for more SNKRDUNK features in the near future. For other previous sneaker features, please click here.