Give me a hell yeah! – The WWE 2K series is back after taking a 1-year hiatus in the series. Last time round the 2K series drew quite a bit of buzz online but maybe not for the right reasons with a what seemed to be rushed and unfinished release. However, the team at 2K have seemingly been hard artwork in this time refining and solidifying the game engine, designing new story modes, and jampacking a vibrant roster of playable characters, to produce honestly one of my favourite wrestling titles to date (WWE No Mercy will always be hard to beat!).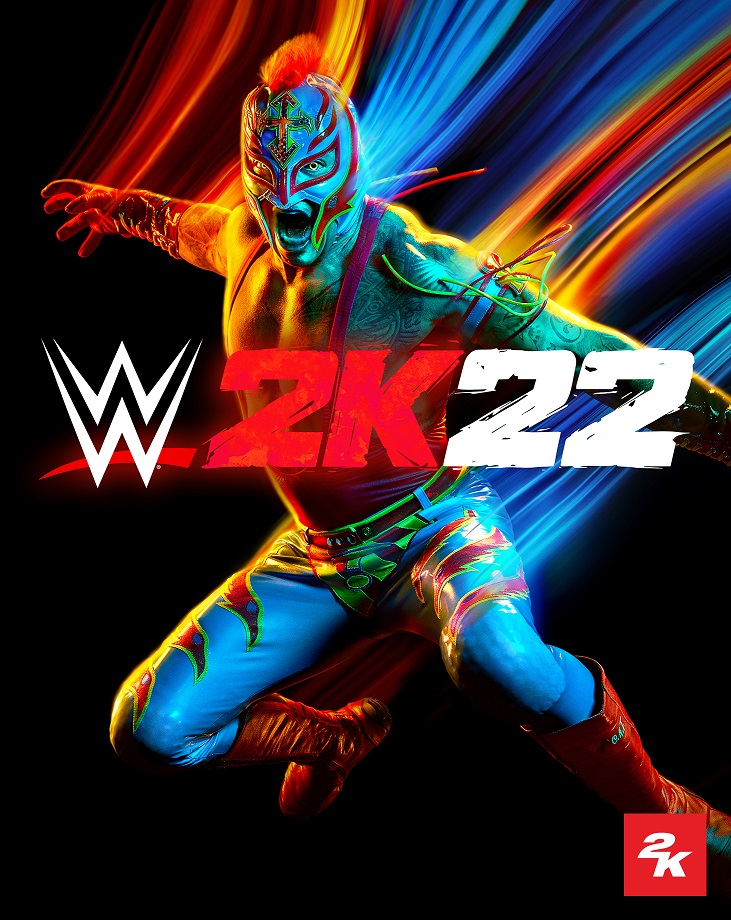 The 2K series has been known to put the realism back into the game, placing the player right into the action and WWE 2K22 does not shy away from this with are designed gameplay engine to new controls and upgraded visuals, WWE 2K22 does live up to "It Hits Different." slogan.
WWE 2K22 offers a plethora of game modes including:
2K Showcase Mode – We see the return of this series featuring the cover star himself – Rey Mysterio where you can relive his amazing career featuring matches with legends such as Eddie Guerrero, Shawn Michaels and The Undertaker. This mode stitches gameplay with video footage, seamlessly transitioning within the match and offering a truly immersive experience.
MyGM Mode – The beloved MyGM mode makes a return, placing you in all so coveted 'authority figure' seat to live out your fantasy booking dreams.
MyRise Mode – If you wanted to live out your own speculative Indie Wrestling rise from the performance centre all the way to the main roster of the largest wrestling promotion in the world, then look no further than the MyRise game mode within 2K22.
MyFaction Mode – This one is for the fans of FIFA Ultimate Team, featuring a mode to collect, upgrade and battle using Superstar Cards.
Universe Mode – Whether you just want to control the destiny of one superstar or control the whole roster, this mode has you covered. A staple of the WWE2K series returns and offers a nice balance of the MyGM and MyRise game modes.
My thoughts so far:
The Positive:
Honestly, WWE 2K22 has surprised me in how much fun I had when I first picked up the game. For me wrestling games should have a 'pick up and play' feel – being able to immediately jump into the action, beat your opponent to a pulp, placing them onto a table, climbing a 20-foot ladder to then come crashing down through them – and WWE 2K22 delivers on this!
For returning players you will feel comfortable in gameplay, and for new ones 2K have included a very fun, quick and informative tutorial by none other than 'Coach Gulak' himself in the performance centre which does a great job in familiarising players with the controls.
One of the more noticeable changes I've felt is in the past there were A LOT of little mini-games when performing submissions, breaking pins and other little extras which for me felt jarring and slowed down the overall feel of the game. In WWE 2K22 they seem to have stripped back on these and the game feels more streamlined and balanced with an arcade feel.
I think so far for me, the highlight has been the Showcase Mode featuring Rey Mysterio. Reliving and getting to play out highlights of the future hall of famer's career with seamless transitions to live footage of the historic match was a truly immersive experience. If you haven't played one of these modes before – you play through key matches in the career of the superstar and during the match you complete challenges, transitioning from gameplay to cutscenes of live footage and was very nostalgic for a fan who grew up watching Rey's early matches.
The Negative:
As the game tries to incorporate more advanced move sets such as diving tope suicida's, to springboard rope attacks, to even just your regular running grapples, the input for these can feel clunky and many times your character will straight up just miss the opponent, and you will spend the next 10 seconds rolling on the floor waiting to get back up.
The character creation is good, and there are still plenty of fantastic Community Created characters to be downloaded to create the ultimate fantasy matches, but not much has changed and some things are even reduced for example certain sliders for body shape are now replaced by pre-sets. Adding to this, the creator is quite slow – e.g. loading new gear on the character even though it's only a few seconds is enough to make me stop and just go with a pre-set configuration.
The MyFaction mode promises a lot and has that FIFA Ultimate Team or NBA 2K MyTEAM mode of playing card, team building gameplay, however does not have any sort of online capability. There are certain mode exclusive characters which can only be unlocked and played within the MyFaction mode and players are incentivised to purchase virtual currency to speed up the progression in this mode, but without the online piece I feel the incentive to unlock these is limited.
Final thoughts:
WWE 2K22 has impressed me so far. The team at 2K and Visual Concepts have obviously been hard at work in their year off to help refine and polish up the WWE 2K franchise. This game is not a complete ground-up rebuild, but it definitely feels more than just another yearly release. I enjoy the faster, more arcade like gameplay, making it more new-comer friendly (great for when the friends come round), yet peppered with combo systems for the more experienced to master. With its largest (over 160+ superstars) and already expanding roster, DLC already being released, consistent gameplay updates which have introduced new commentary, arenas, visual updates and more. Its great to see that this instalment lives up to its slogan in that it "hits different" and will keep on "hitting different" as the year progresses. – "And that's the bottom line cause Stone Cold said so"
WWE 2K22 is now available online at wwe.2k.com or at your local retailers – JB HiFi, EB Games or Gamesmen. Make sure you subscribe to our website for the latest features. For other 2K features, click HERE.