Well, what a weekend it was for Marvel fans at San Diego Comic Con. We all knew leading into this event, Marvel was going to bring some incredible news as to whats coming in the MCU & Disney+ world, but i dont think we were ready for what actually came.
So lets do a run down of what was announced. This might take a while, so get comfy fam!
Marvel fans have been a little concerned over the past 12 months as to where everything was going. We have had so much content in Phase 4 of the MCU but no clear direction. After the mega Hall H panel yesterday, Marvel Studios President Kevin Feige has outlined the remaining Phase 4 projects and announced all of Phase 5 and introduced some of Phase 6.
Phase 4 – Whats remaining?
We have touched on Phase 4 before, however the COVID pandemic definately shook it up forcing movie release date changes and even movies getting shifted around.
First one of the ranks was a trailer for the upcoming Disney+ shorts "I Am Groot" which will air on Disney+ on August 10th. This will consist of 5 original shorts starring Baby Groot from Guardians of the Galaxy Vol. 2. These shorts pick up with Groot still regrowing his body, and all of the crazy adventures he gets up to.
1 week later, we skip into "She-Hulk: Attorny at Law" which will air from August 17th and will run for 9 episodes. We got a new trailer for the upcoming series which would hopefully please the MCU fans a bit more as the CGI was alot better. Looking at this trailer below, it appears we are getting a few cameos from past projects including Abomination (Tim Roth), Wong (Benedict Wong) and an epic surprise at the end of the trailer Daredevil (Charlie Cox).
Then onto the final project of Phase 4, "Black Panther: Wakanda Forever". Now this trailer that dropped was truly a masterpiece. Hits right in the feels after the passing of Chadwick Boseman and where they are going with this. Whoever done the editing for this, deserves an Oscar. Marvel confirmed what we were all hoping would happen, and thats the introduction of Namor, the Sub-Mariner from Atlantis. And the footage of him in the trailer was just perfect. Tenoch Huerta (Narcos: Mexico) will play Namor.
Phase 5 – What's in store?
Marvel just made every fan's mind explode with whats in store for Phase 5 starting in 2023. It appears Phase 5 will run over 18 months with 6 movies and 6 Disney+ shows. Now thats alot of content to get through in a short timeframe. Not much has been mentioned so far in depth about each project, but here is whats coming and when to expect it.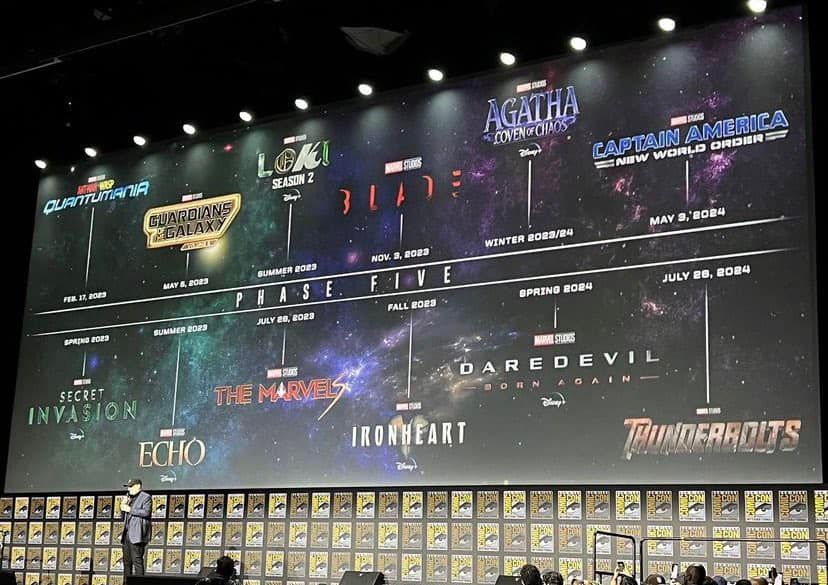 Antman & The Wasp: Quantumania – Feb 17, 2023
Secret Invasion – Autumn 2023 – No release date confirmed as of yet
Guardians of the Galaxy Vol. 3 – May 2, 2023
Echo – Winter 2023 – No release date confirmed as of yet
Loki Season 2 – Winter 2023 – No release date confirmed as of yet
The Marvels – July 22, 2023
Blade – Nov 3, 2023
Ironheart – Spring 2023
Agatha: Coven of Chaos – Summer 2023/24
Daredevil: Born Again – Autumn 2024
Captain America: New World Order – May 3, 2024
Thunderbolts: July 25, 2024
This period in the MCU is going to be wild. What it will lead into with Phase 6, is going to be insane.
Phase 6 – What we know so far!
The biggest surprise so far from Phase 6 is that the fact we are getting 2…thats right…2 Avengers movies in the SAME YEAR!
As we can see, there is alot of content coming in Phase 6, but the main thing is that in 2025 we will come to the conclusion of what is dubbed "The Multiverse Saga" with Avengers: The Kang Dynasty & Avengers: Secret Wars.
This next 3 years of the MCU is going to be wild. Let us know what you think of whats coming? Are you excited or getting over all the Marvel content?